19. Dezember 2014
Hi Michael,

Thank you so much for being in contact, and how wonderful that you use your talents and abilities in order to help others. Thank you for choosing to help Center For Change and please convey our sincere thanks to your team. God bless you for your vision to combine your sporting activities with a vision to assist others. It is so nice of Nancy and Johannes to tell you about us. We do have a Facebook that was started for us after super typhoon Haiyan, you will find it by looking up Center For Change, Leyte, Philippines. You will find some photos, videos, and some information on there (although we honestly have not set it up properly, with our Vision, Mission, Goals etc), we were just thankful for friends who started it for us as a means of communicating with people after the typhoon. We will endeavour to improve it in the new year.
Center For Change began because of an encounter with children on the streets in 2001, which made me ask the question, "Why isn't somebody doing something?" To this question, I had an immediate response from the Lord challenging me deeply with the question, "Margaret, why aren't you doing something?" I there and then committed to do something, but had no idea what to do. With a small group of volunteers we began a daily activity for children, with Gospel songs, stories and games, followed by a meal. After a while, we realized that more was needed, and some of the youth who were very much into substance abuse, suggested that if they could just get further away from the streets, they would not be tempted to sniff the glue. On February 26, 2002 we began a residential care home for these youth. However, one large house was not big enough to meet the need, and so the vision grew for us to have enough land to build a village of homes that could provide alternative family care for needy children.
We are so thankful to the Lord, for the many children and youth who we have been able to help. Many have been reconciled with extended family and others are in independent living, working or furthering their education. In December this year, Cathy, our first girl from the streets who grew up in our Center For Change family joined our staff in the role of nurse/receptionist. Yes, she has graduated with her degree in nursing, and in November sat the licensure exam. Richard, who was one of our first boys from the streets is currently studying Social Work and has a desire to help Center For Change when He finishes his course. These are just two of the success stories to come out of the ministry of Center For Change.
Our vision: Children with a hope and a future
Our Mission: To rescue children from the streets and other perilous situation
Our Goal: Changed lives
Whenever possible children are reconciled with families and will not stay with us long term, but some times that is not possible and some youth continue to stay as part of our Center For Change Family. When old enough for independent living, our older girls share a house in our village, and our older boys who could not be reconciled with family share a home about 10 minutes away from our Center.
Above Cathy helping with a feeding program; Cathy graduating from College. Cathy, front right end.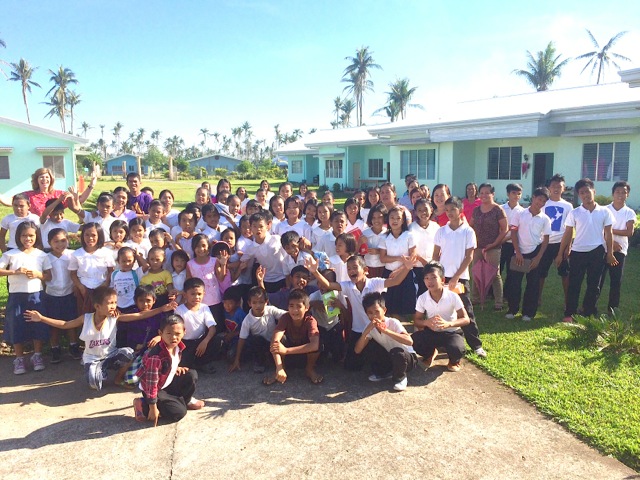 Above Center For Change children and staff with houses in foreground, school building centre back.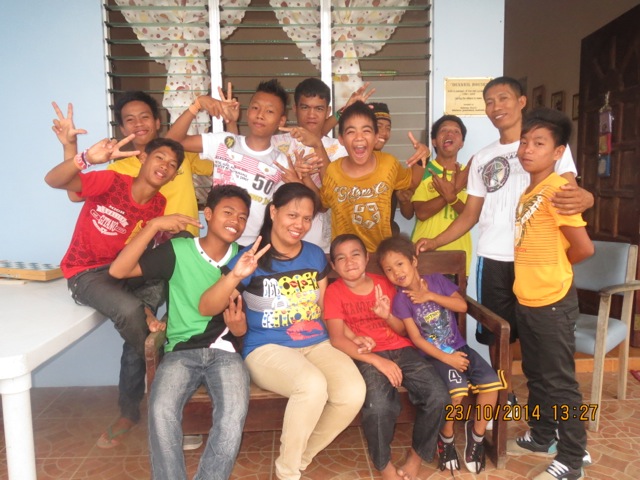 Above, one of our boys homes. Below, one of our girls homes
In 2012, two of our boys John Paul in Green shorts 2nd from left and Jerwin in white 4th player were chosen for Homeless World Cup and represented Philippines in Mexico. John Paul is home with us right now from Manila where he is continuing his education where he has a chance to play soccer, and Jerwin is currently lined up for a job.
Well Michael, I hope this little update with a few photos is of help to you. We would like to develop part of our property for a proper soccer field, but it is costly and there always seems to be something more pressing to do.
Anyway God bless you and and the Fundrunners. May you have a wonderful God-blessed Christmas, and God's best for the new Year.
Regards
Margaret Pashley,
Founder/Executive Director.